I learned this morning that Bradford Hatcher has died. The Yijing world has lost a treasure, and many of us have lost a good friend.
Brad was ridiculously generous with his knowledge. His epic, two-volume Yijing is available from his site, for free. (He's made arrangements to ensure it'll stay that way.) It's a superb work – including a character-by-character translation to let non-Chinese scholars get a glimpse of the original, a poetic translation, an 'introduction' with more meat in it than most books, and unique, original commentary. That commentary comes with an acute awareness of Yi's internal relationships (he coined the term fan yao) and, especially, of its native humour. It's an extraordinary gift to us all.
When visiting hermetica.info for the Yijing book, pause and look around to appreciate the breadth of its author's intelligence, which was intimidating, and his experience, which meant he was one of the few Yijing scholars who could write his commentaries about wells, cows and goats on the basis of personal knowledge of wells, cows and goats.
On a personal level, I know Brad was also generous with his time. A regular at Clarity's I Ching Community for many years, he also helped me a great deal with my book in 2010, both with practical feedback on translation, commentary and nuance (as I emailed him each hexagram in turn), and with steady encouragement.
We met once, thanks to LiSe, a few years ago in the Netherlands, where I discovered that he also gave very good hugs.
When I heard this morning that he'd died, I looked at the books closest to me on my desk as I work: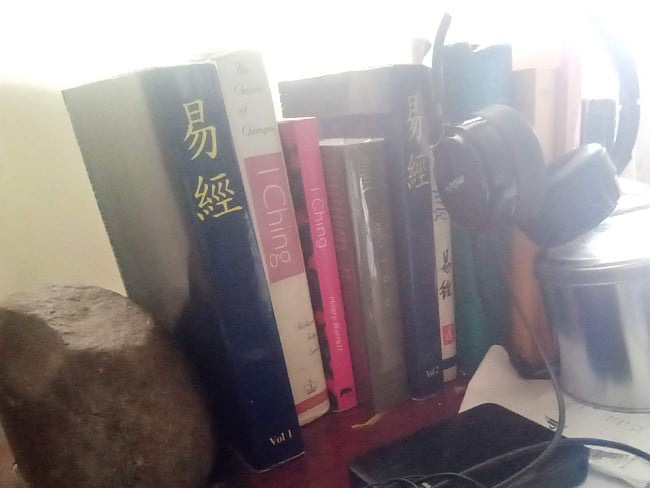 And finally – let me give Yi the last word. I just picked up the beads and asked the oracle to talk to me about Brad. Yi gives Hexagram 50, the Vessel, changing at line 6 to 32, Lasting:
A cauldron with a jade grip
Very promising
Nothing cannot be turned to advantage
50.6x A jade grip across the top:
The firm (and) the flexible (are) in due proportion

The cauldron has a carrying ring fashioned from a fine piece of jade. Sensibility and sensitivity find common ground in a stylish understatement. A pleasant and useful presence will combine the best of both worlds. This cauldron will not be abused or ignored, or carried by random people to random places, or hung up on rusty nails. Respect can be a part of design. It's the thing that will make people say: They don't make them like they used to. It's the classical, timeless elements that will set it above all the fashions and trends, those things which are not made to last. So too with the sage and his teachings: he may lean more than a little towards the things we have handed down, and less towards the latest trends that have the new age so excited. He still wants the new, it's still about changes, but he wants to use finer ingredients.

50.6, from Bradford Hatcher, The Book of Changes: Yijing, Word by Word, Volume 1.