Note: this link and these instructions are for the Windows version of the Resonance Journal. For the Mac version, please click here!
Click here to download the updater to your computer.
Instructions
If you've updated your Journal before, you may have old shortcuts to previous versions of the updater program still sitting on your desktop, like this:

and/or this: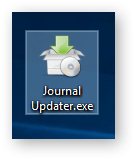 To avoid confusion between old and new, you might want to delete any old shortcuts before you start.
There are two phases to update your journal:
Install the updater program
Run the update
1. Install the updater program
Download 'Journal Updater' (right click and choose 'save target as' or equivalent) and run the program.
When 'User account control' asks if you want to allow it to make changes to your computer, click 'yes'.
If your journal's open, close it.
Proceed with the installation – accepting all the defaults is fine, but do make sure the box is checked to create a desktop shortcut:

Install and click 'finish'
2. Run the update
On your desktop you'll find this icon –
– click it to start the next stage.
Again, click 'yes', you do want to allow this app to make changes…
In the window that opens, navigate to the folder where your journal is stored. If you left the defaults unchanged when you installed the software, it will be at 'C:\Resonance Journal'. It will show a list of subfolders including 'Journal_Database' and 'support_files', like this:
Once you're in the correct folder, click the 'Open' button.
The update then runs and should finish with a success message something like this:

If you have any questions, please come to the helpdesk and ask!