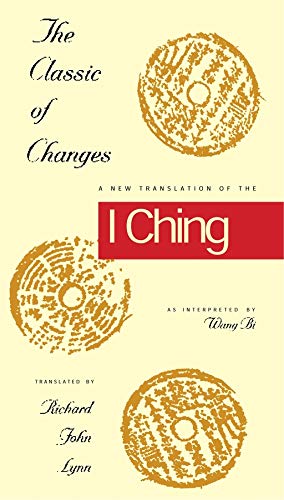 This is a remarkable work of scholarship that offers unusual insight into the development of early Chinese traditions of interpretation. It includes all the Wings, translated into clear and sometimes very poetic language, along with the all commentary of Wang Bi, the earliest I Ching commentator. In addition to giving the Dazhuan in its entirety – with Wang Bi's commentary – Lynn also intersperses relevant excerpts from this and other Wings into the main body of the translation. The only other books I know of that do this are Wilhelm (book III) and John Minford (book I).
For each hexagram you have…
a full translation of the Zhouyi text
and all the relevant Wing texts
Wang Bi's commentary on the hexagram and lines
detailed footnotes with explanations of the commentary and excerpts from other early commentators' writings
In every Yijing book, the school of interpretation influences the translation. Lynn is unusual in making this explicit: his translation represents Wang Bi's understanding – and his respect for both the historical context and to the older/younger/ageless spirit of the book shines through.
This is written much more a work of scholarship than a guide for divination: its only concessions to diviners are a 'How to cast a hexagram' with both yarrow and coins, and a look-up chart of hexagrams at the back. But as well as being an invaluable reference – especially if you want to understand line theory and how people work(ed) with it in practice – it's also very usable and useful in readings.
Finally – I often find the language of the translation beautiful: rhythmic, elegant and clear. Some examples:
'This one sheds tears enough to make a flood, is sad enough to wail, but he has good fortune.' (30.5)
'Is it to be consummate Elegance or perfect simplicity? She keeps her horse white and, lingering there fresh and spotless, goes to marry only when the robber is no more.' (22.4)
'The Well gives its bounty here. Do not cover it, for if one has sincerity, he shall have fundamental good fortune.' (48.6)
I like
the footnotes and the insight they offer into early Yi scholarship
the completeness and care
the remarkably simple and clear language of the translation amidst all the complexity
I wish
that Richard Lynn would write more books – how about a full translation of Zhuxi's writings on the Yijing?
Recommended for
All dedicated Yijing students, especially anyone who began with Wilhelm/Baynes and would like to learn more about the origins of Chinese interpretive traditions.