Each of these three elements – learning, readings and community – nourishes the others and multiplies their effects. The more you grow in confidence with Yi, the more you can contribute and help out relative newcomers (this is an ideal environment to practise reading for others); the more you share your experiences, the richer the whole community becomes.
The trigrams and their directions were the juicest part of the Foundations Course for me, but I can't think of any one thing more useful than another – all of them were! – and I now approach an I Ching reading in a deeper and more transformational way. Instead of just blindly following an I Ching book interpretation, I can contemplate a while and choose a personal way of understanding my casting.
Would I recommend it to a friend? Sure, as long as that friend had the prerequisite linguistic and philosophical sophistication to assimilate your very generous, methodical and in-depth information. Otherwise, anyone will appreciate, like I did, your warm, personal support."
Chantal Harte
Yijing Foundations Course: for fluent, confident readings
This is a complete course designed to clear away whatever obstacles stand between you and confidence in your own I Ching readings. If you…
have trouble applying the imagery to your own situation and question
are baffled by apparent contradictions between different parts of a reading
worry that your biases may be distorting your interpretation
…and sometimes find yourself giving up on a reading when you wanted and needed its help, then this is for you. Click the 'syllabus' and 'course format' headings below for more information:
Syllabus
I designed the course syllabus by 1) asking a lot of people what problems and sticking-points they had in interpretation and 2) asking myself, 'What do I use to solve those problems – and which of these techniques or insights could I absolutely not manage without? What's essential to understanding a reading?' The resulting course covers:
1. Essentials before you start
What you need to have in place to start building a relationship with the oracle: a good translation, a Yijing journal, and the means to cast a hexagram.
2. Discovering the question
This is the invisible obstacle: often, what seems to be an interpretation problem is really a confusing-question problem.
3.Connecting to images, part 1 – the trigrams
Probably the single most important element of confident reading: really experiencing the connection between the Yi's imagery and your question. No matter how complex a reading gets, you will always be using that inner touchstone. So we have several weeks to build confidence in that – starting with something as simple and elemental as the trigrams.
4. Connecting to images, part 2: single hexagrams
Developing the skills of connecting to and applying a reading, and getting a feel for a hexagram as a whole – through both ancient text and component trigrams, together.
5. Reading structure part 1: primary and relating hexagrams
The framework for good interpretation: knowing a reading's basic structure and how its elements 'talk to' one another. (No more puzzling over apparent contradictions!) Primary and relating hexagram first, then…
6-7. Reading structure parts 2 and 3: moving lines
– understood through both line positions and steps of change, so you can handle multiple moving lines without confusion.
8. Foundations for a reading practice
Different ways you can integrate readings as part of your life and keep growing a strong working relationship with the I Ching.
Course format
Bite-sized lessons
The modules are divided into manageable lessons, each with a video of 10 minutes or so – mark each one complete to keep track of your progress through the course…
Learner-friendly formats
Each module is presented in three formats, so there'll be something for your preferred way of learning:
video – with advanced controls so you can replay sections as often as you want, accelerate playback, pause or skip ahead through the table of contents, or even run a full text search
audio – extracted from the video to take with you and listen on the move
pdf ebook – for swift learning, and for convenient reference
Absorbing the material in all three ways – watching, listening and reading – helps it to 'stick' in your mind, so the information's there when you need it.
Practise as you go along
There's a variety of suggested experiments, quizzes, exercises, and ways to apply what you're learning. (Which is important, because information without experience is just an unopened book – and, since it's all digital, not even useful as a doorstop…). I've included answers and extensive worked examples for comparison.
Apply it to your readings
In the 'Downloads' section for each module you'll find the complete text as a pdf ebook – and also often additional reference guides and worksheets and templates that provide a straightforward, step-by-step way to apply what you're learning to your own readings.
Support
As well as lifetime access to the course, you also have three months' access to the Yi Academy forum, where I'll be glad to answer any questions you have.
I recommend this course and the 'Resonance Journal' to everyone that will listen : )
Because, if one is honest with interpretation, it will sort out years of confusion.  The course helps to get one on the road to sanity quicker."
April Wood-Reeve
About the 'Exploring the Sequence' book – I am in awe of this resource! It is fascinating and so much work went into it. Also I pretty regularly return to the Foundations course for refreshers. And participating in the two Open Reading series has been a valuable learning experience for me.
I just want to say thank you, thank you, thank you for all the work that goes into Clarity. Between the courses, the interactions, WikiWing and your book, I have learned so much, and cannot even begin to tell you how much I appreciate it!"
---
Choose the right price for you
You can't really put a price on an online membership like you would with a daily coffee, can you? And it's not as if there were a lot of I Ching memberships to compare with. The last I looked, a comparable tarot membership (with resources and forums, though definitely no one-to-one chats) cost $27/month – better value than the daily coffee!
But still… Change Circle's a community as well as courses, so I don't want to price it out of reach. Let's have a basic price of  £10/month (about $14 or €11) – and beyond that, pay what you want. If it feels good to you to pay more than the £10/month, then thank you. And if not, then thank you, too, for joining.
Or to keep things simple, you can subscribe annually from £100/year. (That's 12 months for the price of 10.)
Spacious 60 day guarantee
Obviously, you can cancel your Change Circle membership any time. But in addition to that, if you want to leave within the first 60 days of your membership, simply let me know and I'll refund everything you've paid. No questions, no hoops to jump through and no hard feelings.
Why two months, not just one? Because I want you to have plenty of time to see and use all that's included before you have to decide. There's enough time pressure in the world – why add more?
Join Change Circle
Get access today to…
the Reading Circle and Yi Academy forums
WikiWing
the Yijing Foundations Course and a growing library of Yijing learning resources
individual I Ching chats
Pay as you go, from £10/month
Best value: 2 months free, from £100/year
I'm a member of Change Circle because it's more private and it's also a way I can contribute financially to Clarity. I would recommend it to anyone who is seriously interested in exploring the I Ching beyond the basics. Someone who is willing to spend more time with Yi's responses.
I use WikiWing for honing my understanding of a line here and there, especially for my own readings, and I've added to it from time to time. This gives me a great feeling of accomplishment!"
How is this different from the free I Ching Community forums?
There are three big differences.
First, I'm there in Change Circle – in the forums and via I Ching chat – to help with your readings and answer your questions. (While I'm happy to host the free I Ching Community, I don't have time to do more than keep it running and drop in very occasionally.)
Second, the Change Circle forums are private: for members only, and guaranteed Google-proof.
And finally, Change Circle is not just forums: it's also a centre for learning, including the Yijing Foundations Course and much more.
How is this different from the free Beginners' Course?
The Beginners Course takes absolute beginners from zero to casting their own readings, with just a few tips on interpretation at the end. Yijing Foundations starts where the Beginners' Course leaves off, and walks you through how to interpret the casting: primary-relating structure, trigrams and changing lines. And the further learning materials in the Library go beyond the essentials into advanced interpretive tools, for exploring the depths and subtleties of a reading.
What if I don't like forums, or don't have time for them?
Not a problem!
Change Circle is a lot more than forums: there's WikiWing (where shy people can contribute anonymously), a whole library of courses and articles, and as a member, you are absolutely welcome to book a chat with me any time. Actually, some members never post in the forums at all.
(Also, you just might feel differently about these forums when you get to know them: they are altogether slower-paced, gentler and friendlier than the wilds of the internet – a chance to connect on a deep level with kindred spirits. And you can perfectly well drop in when you have time and fade out when you haven't – we're always there!)
How could I cancel my membership?
Simple – use the handy 'cancel' link on your member profile –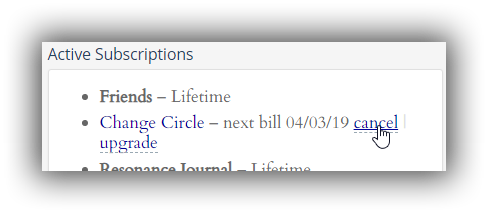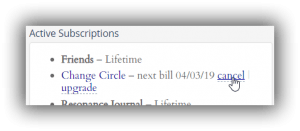 This will forward you to the payment provider (where you originally set up your payment agreement) to complete the cancellation.
(Or I can always cancel your payments from my end if you have any trouble with this.)
Do you give refunds?
Yes, I do. Any time in your first 60 days of membership, just contact me to ask and I'll refund the full amount you paid at once. (No quibbly pro-rata fiddling.)
Why forums? Why not a Facebook group?
It's true, forums are not exactly at the cutting edge of the internet any more. However, they're our own space, and they're still the best place for in-depth conversation without distraction – conversations you can return to (and actually find) days or months later and add an update, or pick up where you left off.
I think of Facebook as the 'fast food' of online communication – something not-especially-nourishing to snatch on the run. Forums are more like a home-cooked meal. Also, our forums are not subject to Facebook's privacy policy changes.
(And also, Change Circle actually does have a secret Facebook group – but we still gravitate towards the forums for real conversations.)
Do you include courses on Wen Wang Gua / Plum Blossom / this text-free method?
Sorry, no – nothing like that. I'm dedicated to the Yijing as an oracle that speaks through its unique, rich fabric of words and structures, and I created Change Circle to support and nourish your relationship with this oracle.
For people who are looking instead to master a tool they can use to predict the future – I wish them good luck in their search! (But I'm afraid it doesn't end here.)
Hilary is a wonderfully creative and imaginative teacher. I really have never encountered anyone who explains things better than she does – and the I Ching is difficult to explain, which makes it all the more remarkable.
Over the years she has come up with many innovative ways of bringing the I Ching to people and fostering discussion and learning. You get a lot with a Change Circle membership.
I appreciate her taking the trouble to produce the Foundations course in three different formats – video, ebook, and audio. All are superb (do not miss the videos), and when used together help the concepts sink in. Also, you can put the audio files on a CD or flash drive and listen in the car!"
Do you have questions I haven't answered?
Then please use this form to ask them, and I'll get back to you as soon as I can!
Quality instruction in Yijing divination is hard to come by, but Change Circle provides a deep and engaging interactive course. Hilary's interpretive strategies help cut clear through the fog, with opportunities provided for peer-reviewed practice in applying and integrating them. It's structured in a way that it can be approached as interactively as you like, or accessed as reference material, and it's easy to choose and to vary your pace and degree of interaction.
One very helpful reference is a Wikipedia-like collaborative translation I've referred to frequently for Hilary's invaluable insights into the relationship of each individual line to its 'zhi', or relating hexagram. I've never regretted joining Change Circle and I've made noticeable progress as a result; the deeper my engagement, the more rewarding it's been."
Deflatormouse