(If you already know you want to join WikiWing, click here to go straight to the order form.)
You know how, when you're finding it hard to connect with a reading, it often helps tremendously to think back to previous occasions when you've received this hexagram or line? Not just for 'what happened', but because you have a sense of how it feels from the inside?
The I Ching Community has always been brilliant at supporting people with their readings through shared experience, both directly ('anyone have any experience with 45.1 in relationship readings…?') and indirectly, through the archives.
(Thank you.)
WikiWing – the experience-based I Ching book written by the I Ching Community – embodies that support, distilled and supercharged. It brings…
shared reading experiences
new perspectives on hexagrams and lines (essential for 'old hands')
the opportunity to make a lasting contribution to Clarity's pool of I Ching insights
a way to become a supporter of Clarity's free I Ching Community and resources, helping more people to get to know the I Ching.
Introducing WikiWing
WikiWing is the kind of communal undertaking that only the internet makes possible: a big community-written 'Wing' of Yijing commentary, built entirely out of members' own reading experiences. It's a Wiki with an article for each trigram (thanks, LiSe!) and hexagram, easy to reference and edit.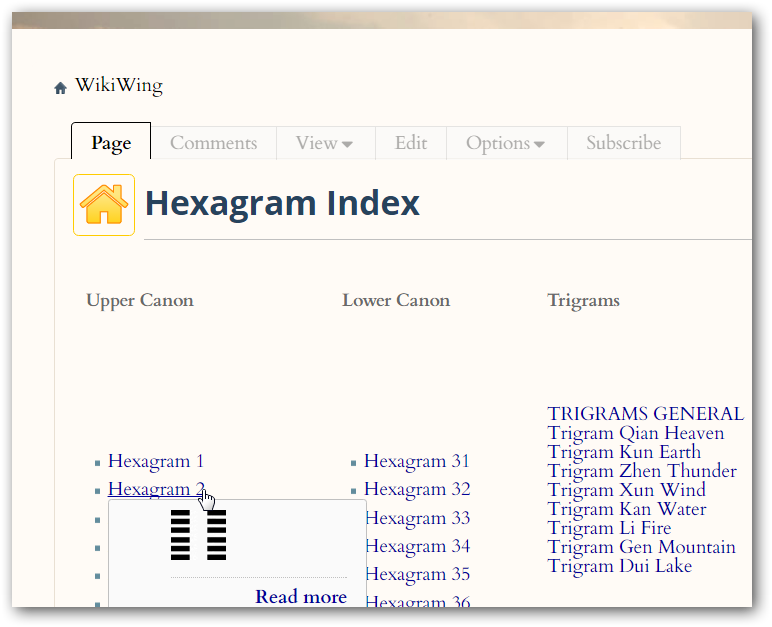 It started life back in 2008, when I 'seeded' the Wiki with my own notes on each hexagram and line. Since then, Change Circle members have been steadily adding insights and experiences of their own, about health, relationships and creativity… and computers, cycling and dentistry… and so on. It's growing into something special.
Support Clarity: pay what you want
WikiWing is a subscription-based membership, and you choose your monthly payment. (The minimum subscription is £1/month – that's about $1 or €1.)
'Clarity' the business is just me at my computer – researching, interpreting, writing, replying, and doing tedious techie things and paying assorted bills. And, of course, sustaining a big free forum without advertising, which any normal business advisor would tell you is a daft idea. (Happily, Yi is not a normal business advisor, and told me 42.5 instead.)
To state the excruciatingly obvious, Clarity and its I Ching Community couldn't exist without you: it all depends on your generosity, both posting and paying.
So here is another Yi-prompted un-business decision: opening WikiWing on a 'pay what you want' basis. The way I see it, payment based on trust is simply a reflection of our real mutual reliance.
WikiWing is for everyone who wants to be part of it. If you can only afford £1/month – thank you for joining. If you can pay more, you'll be helping to provide access for people who can only afford the minimum (excellent karma) – and thank you for joining.
So… if you want to support Clarity in helping more people have a clearer, more powerful relationship with Yi, then please – accept this invitation, join WikiWing, and pay what you want.
If you opt to contribute £10/month or more, I'd like to give you full access to Change Circle – including the private forums and Yijing Foundations Course as well as WikiWing. Here are all the details and a link to the sign-up form.
Clarity's usual guarantee applies
– it boils down to,
Unless you're happy, you get your money back.
For WikiWing, that means you can get your money back any time during your first month: you only have to ask. (And obviously you can cancel any time.)
I consult WikiWing almost as often as I consult the I Ching. Your illuminating insights have helped me understand many obscure lines that otherwise would have remain unsolved riddles. I especially appreciate your explanations of how the change line in the first hexagram creates the connection to the second hexagram.

I consider WikiWing my Possession in Great Measure!"
As I noticed with the unchanging and memorising threads, people have so much to contribute of their own experience with Yi and it's great to have WikiWing to bring it all together and create together a truly amazing resource we are all part of. …The beauty of it is we create it and share it together. Also importantly the subscription goes towards supporting Clarity as a whole which is good."
use wiki often. I find the additions flesh out readings well when I am stuck. I say 'flesh out' because having people's recent thoughts and experiences and so on with a line for example, is a whole other dimension to just referring to yet another commentary in a book. It's more fleshy, immediate, real, relevant. So wiki can feel much more like a living growing thing that can breathe….can be edited, can change..always growing, alive…..tree-like in fact 🙂 "