Do you know someone who'd really benefit from a Change Circle membership?
Maybe someone who has a lot of questions that are answered in the Foundations Course?
Or someone who isn't comfortable sharing details of their readings in the public forums?
Or just a true Yijing enthusiast you know would be a perfect fit?
Now you can give them the gift of membership.
How Change Circle gift certificates work
Unlike a regular Change Circle subscription, a gift membership is a one-off purchase, not a recurring payment. You can choose to give one, three, six or twelve months of membership, after which their access will expire and you won't be charged again.
(Hopefully, your recipient will be so delighted with the experience they decide to re-subscribe!)
On the next page, you enter your recipient's details and a message, and choose the membership duration you'd like to give and when you'd like to send it. (It sends the certificate immediately by default, but you can set a special date if you prefer.)
Click the 'Next' button to continue to your chosen payment processor as usual. You'll see an ordinary thanks page, and receive a confirmation email with the subject line 'Clarity Gift Certificate Information'.
If you entered an email address for your recipient, they'll receive a simple email, like this, with their gift certificate code and a link to redeem it, and the message you entered on the order form: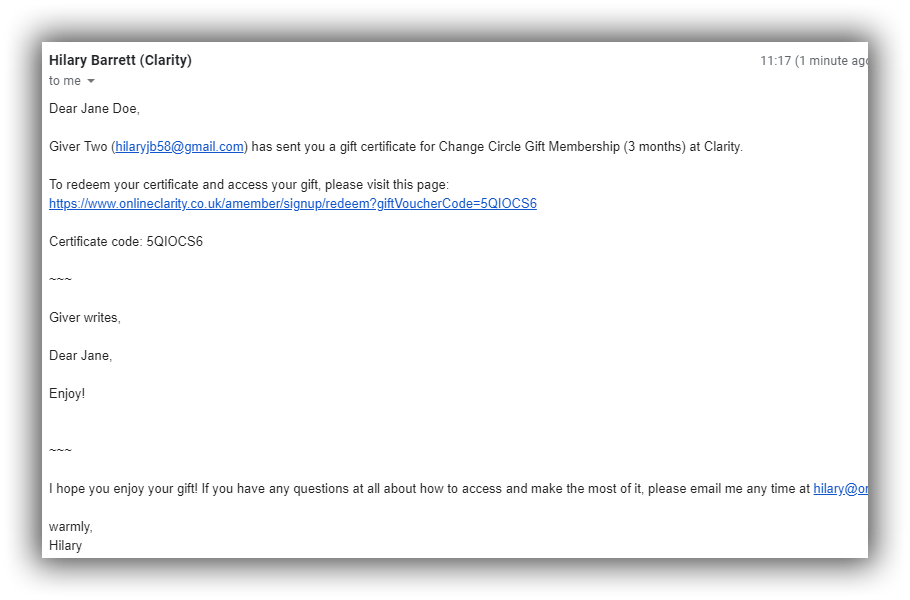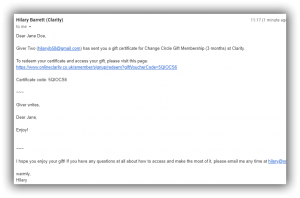 (Click for full-size image.)
(If you don't enter an email address for the recipient, this email just gets sent to you instead, and you can copy the 'redeem' link into an email or ecard to send it along.)
When they click the link in the email, your recipient will see this 'Redeem Gift Certificate' form: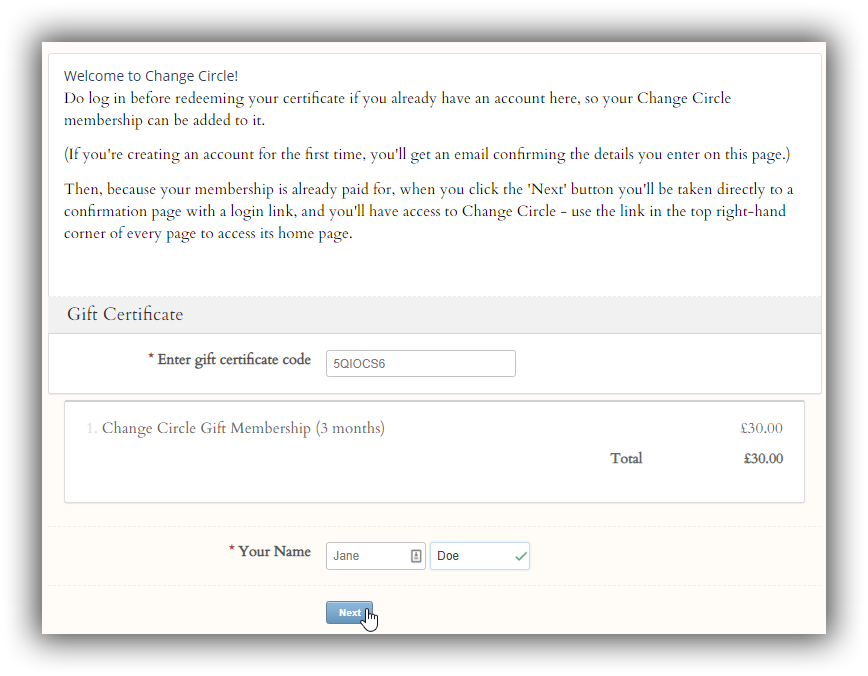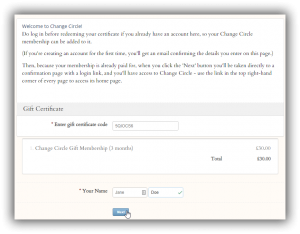 This will show them what length of membership they've been given. All they have to do is log in to their Clarity account – or create a username and password if they're not already a member – and click 'next'.
Now they can log in to Change Circle and enjoy.