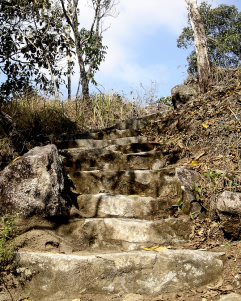 Here are some thoughts on the moving line texts of Hexagram 46, Pushing Upward. I'd like to have a good dive in here – drawing on the meaning of the line position, the relationship to the zhi gua (the hexagram each line changes to) and the line pathway, along with experience, to get a feel for each one. (This kind of work lies behind what ended up in my book – but space there was limited, and here the page can be as long as I like… you have been warned…)
Before I fill the screen with stuff, though, let's just have the uninterrupted flow of the lines themselves:
'Welcomed pushing upward,
Great good fortune.'
'True and confident,
And so it is fruitful to make the summer offering.
No mistake.'
'Pushing upward in the empty city.'
'The king makes offerings on Mount Qi.
Good fortune, no mistake.'
'Constancy, good fortune.
Pushing upward step by step.'
'In the dark, pushing upward.
Fruitful with unceasing constancy.'
Line 1
'Welcomed pushing upward,
Great good fortune.'
Line 1 – the place of beginnings, the first inklings of a hexagram's theme, of inner stirrings and itchy feet, as often as not. Many hexagrams do not encourage acting on those itches/stirrings (take the first lines of hexagrams 34 or 43, for instance!) – but in Pushing Upward, that basic desire to move onward and upward is the heart of the whole thing, and it is welcomed.
It's an interesting word, that 'welcomed' – something of a technical term for an action that is in harmony with the time. Hence it means something that receives consent, is allowed, an action that is true and loyal, and simultaneously just something that is possible. The cosmos at large says yes to this.
It makes clear, intuitive sense that this first line joins with Hexagram 11, Flow – a hexagram full of 'yes'. The first step onto the mountain moves into this creative flow; to want to begin is good.
Looking at the line pathway (46.1, 11.1, 12.6, 45.6), it seems that this first step is taken with deep, wholehearted emotional involvement. If you read the crossing from 45.6 to 46.1 as a story –
'Heartfelt lamenting, weeping, snivelling.
Not a mistake.'
'Welcomed pushing upward,
Great good fortune.'
– then you can imagine the first steps taken in response to a sense of loss, something missing. Heartfelt emotion is the force that overcomes resistance and creates an initiative in harmony with the time, hence capable of developing momentum.
Line 2
'True and confident,
And so it is fruitful to make the summer offering.
No mistake.'
The second line position – in any hexagram – seems to me to reach out and upward in search of connection. So at this stage of the climb, you're moved not by where you are or where you could go, but by what you can connect with – through fu, truth-confidence-trust, and through a modest offering.
The offering named here, yue, was a small one. In his excellent article on 46, Harmen mentions that it's also the name of a measure: one-tenth of one-tenth of a dipper. As an offering, yue was made of plant matter only (no 'great sacrificial animals' here!), and was proportionate to your rank.
It helps to think of rank as not just an empty bureaucratic status-label, but in its ideal sense of a true measure of your personal capability. Then this becomes an offering that's naturally proportional to what you can give – and you can see the connection to Hexagram 15, Integrity. With a completely clear sense of yourself – both your limitations and your potential – you can make a true yue offering. It's your personal call to the spirits (see the fan yao, 15.2) and you – not any external standard – are its measure.
(Quite often the person who receives this line is tacitly asking, 'How much can I be expected to give?')
The line pathway (46.2, 15.2, 16.5, 45.5) suggests that this small offering can restore relationship and health.
Line 3
'Pushing upward in the empty city.'
This is a disconcertingly neutral line!
People's experiences with it vary from bitter disappointment because you expected a warm, lively welcome in the city, to overwhelming relief because you expected resistance and hostility there. The small image (commentary on the line) just says 'no reason to hesitate.' There's nothing for you here; move on through.
This fits at line 3, because here just inside the threshold between inner and outer worlds, the question is often, 'How far can I go out there? This thing I have in mind – can I really move towards it?' And yes… you can move towards it and keep on travelling. It's just that sometimes the world's consent comes as perfect absence and emptiness. (The idea is that this was once a major city, full of life, but it has been abandoned.)
46.3 changes to Hexagram 7, the Army: marching on with purpose in mind, not stopping to reflect on the scenery or dwell on how it might have been. And the line pathway (46.3, 7.3, 8.4, 45.4) encourages the wisdom of not fixating on this empty husk, but looking beyond. The centre of life and meaning is not where it was, maybe not where you expected to find it, certainly not where you are now. So good fortune is available from looking beyond and outside your usual perspective, and just from keeping going.
Line 4
'The king makes offerings on Mount Qi.
Good fortune, no mistake.'
Mount Qi is the sacred mountain close to the Zhou homeland – an ancestral spiritual home to them. Line 4 (in general) tends to ask, 'What can I do here?' seeking a working relationship with this place and time. So reconnecting with your roots at Mount Qi, anchoring your present striving to that ancient rock, is a powerful act.
The line changes to Hexagram 32, Enduring. Cities may come and go (line 3), but ancestors and mountains endure. As long as you can refer to the mountain, you will know where – and when, and who – you are.
And yet… experience suggests this line isn't quite all it seems. Enough people have received this line in situations where they are clearly not getting what they aspire to, and not about to get it, that I've had to take a second and third look at it.
For instance: 'Good fortune, no mistake.' It's often the case that 'no mistake' means 'even though this looks very much like a mistake to you, it isn't one.'
Mt Qi was the sacred place of the Zhou long before they were the ruling dynasty, when they were just a small people of no particular significance or distinction. But what was the sacred mountain then is still the sacred mountain now, and it doesn't look so different. Perhaps what endures and creates meaning isn't so connected to 'progress' after all.
Then there is the line pathway: 46.4 is reflected in 32.4, and you might expect to find its subjective experience there, maybe along with some necessary wisdom. 32.4 reads, 'In the field, no game.' As simple as that. (The 'field' is specifically the area you mapped out for your hunting, so the experience is quite specifically of not finding something where you expected it to be.)
And the other lines in the pathway (45.3, 31.3) indicate a time when more intense desire and emotionality is not helpful – which would make sense, if what you want is unavailable.
So… I believe 46.4  marks a time when your personal desires and aspirations are not being rewarded. The message is that this is not a mistake – on the contrary! And so the optimal response is not to want it more and pursue it more avidly, but to set it in context by redirecting your attention: away from the object of your desire, back towards your roots, towards what is permanent and real. Then you have the foundation for a more real, more connected progress: good fortune, no mistake.
(You could see line 3 as looking outward, onward and beyond, and line 4 as looking backward and inward… and if you changed both lines together, you'd have Hexagram 40, Release, with its choice of path…)
Line 5
'Constancy, good fortune.
Pushing upward step by step.'
Line 5's traditionally the place for the ruler – certainly the place for vision, choice and guiding principles. Only the guiding principle in Pushing Upward turns out to be one step at a time. I remember walking up hill paths with my parents as a child – running ahead and relishing the view to start with, but as we climbed higher and the slopes got steeper, my focus would narrow down to my own aching feet and the simple act of putting one in front of the other.
This is a line of encouragement, often in the face of setbacks. Yi says first that constancy is good fortune, which is really the first thing you need to know, and then 'step by step'. Mountains can't be leapt in a single bound; the only thing you can do next is the next step. (Tautological, yet oddly easy to overlook!)
So why does this line link to Hexagram 48, the Well? Partly as comfort, I think – there's water as you need it (and you can't drink for the month). And partly to suggest a parallel between hauling yourself up the mountain and hauling the bucket up the well – all the way, inch by inch, because almost all the way is no better than not starting at all – with great respect for the small, simple, incremental things. (And – if you look round the whole pathway – a corresponding wariness of complications and ambition.)
Line 6
'In the dark, pushing upward.
Fruitful with unceasing constancy.'
Line 6 is traditionally said to be 'outside' the hexagram – and this one surely is outside the realms of purposeful ascent, just because you can't see where you're going. In the original just as in English, 'in the dark' has both literal and figurative meanings.
Commentators come down hard on this idea of pushing on up in the dark, calling it following 'blind impulse' and 'ego'. Yet it's worth noting that the Yi does not say 'So stop!' And goodness knows, it's really not shy about telling people who are headed blindly into trouble, moved by not-so-spiritual impulses, to stop. On the contrary: pushing upward in the dark bears fruit – with unceasing constancy.
All the way up this mountain, there's been the question of how you orient yourself. The itch to move is enough at first, and the true desire to make your offering. Then the empty city, the sacred mountain, and your own next steps. But if you're to keep climbing here in the dark, how are you to know where you're headed?
It's good to remember that the earliest meaning of 'constancy' is 'divination'. The two concepts meet in the idea of holding to the truth you know and to your way of knowing. So pushing upward in the dark bears fruit if you divine without stopping to rest ('unceasing' means literally without rest, without pausing for breath) – if you keep on referring to truth.
In his article, Harmen describes this line as being on the mountain at night, especially close to the the spirits, and vulnerable. He seems to be imagining something like this. Certainly, this is a scary line – it no longer feels like 'getting somewhere', let alone 'getting something' – the small image says that it means 'loss not gain'. (Should you receive this line when you have a specific goal in mind and any alternative way of reaching it, I'd look into the alternative!)
The line changes to Hexagram 18, which is also scary… but from experience, and from the line pathway, I don't feel it means that the process of pushing upward has itself become corrupted. Rather, it's past the stage of striving for a goal and hence is finding something simpler as a guide. 18.6 and 17.1 show a radical reorientation, choosing quite different standards of measurement to the norm. And if you read across from 45.1 to 46.6 –
'There is truth and confidence, but no completion.
Then disorder, then gathering.
Like a call, one clasp of the hands brings laughter.
Do not worry.
Going on, no mistake.'
'In the dark, pushing upward.
Fruitful with unceasing constancy.'
– then there's a strong sense of continuity – that you only need one line of connection, one call, to guide you…