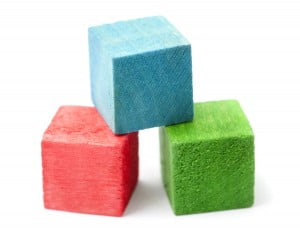 Responding to emails from someone struggling with his readings started me thinking about the basic principles of interpretation – the real essentials. Of course I have picked up a bunch of background knowledge along the way, and it all contributes, but people can do perfectly useful readings without most of it. There are a few building blocks, though, without which I couldn't begin to interpret anything. Here are the ones that come to mind:
The changed hexagram is not usually the future
Oh, thank heavens for Stephen Karcher, from whom I first learned this. Plenty of people have to work much harder to reach the same conclusion – and plenty more must give up on the oracle altogether because the idea that 'second hexagram = future' creates so many readings that are perfect gibberish.
The second hexagram of a cast – the one you see when the changing lines are changed – can be direction, context, theme, 'what it's about for you'. Any of these things can be in the future – especially, of course, if you asked about the future. None of them has to be.
The line takes precedence over the hexagrams
If the hexagram says 'good fortune', the line says 'pitfall', then what you are asking about is an ill-omened option or position, even though it's in a basically positive setting. The line is not 'contradicting' the hexagram; it's focussing in on your question.
Yi works rather as you would guiding a half-blind elderly lady along the street. (This is something I do each Friday, so it comes to mind as an example!) 'Yes, we have time for the bank – no problem, it's just along here on the left,' you say. And then, 'Look out, mind the puddle!' 'Look out!' does not contradict 'no problem', and the line does not contradict the hexagram.
The commentary is not the answer
I have ridden this hobby horse round and round the site for years, but I'm always happy to give it another outing. You would not have a conversation with a friend by taking a poll of what half a dozen other people think he's trying to tell you – let alone other people who have never met you and have no idea what your conversation is about. So why would you set out to interpret a reading by scanning commentaries rather than sitting with what the oracle says?
(As for the authors who think it a grand idea to 'simplify' the Yi by removing its images altogether and replacing them with their own circumlocutory waffle, because of course they know everything that image could possibly mean under any circumstances… need I go on?)
In particular, the reading is only as good or bad as the Yi says it is – no matter how alarming the commentator found it. Some examples – equal opportunity, three authors –
Wilhelm/ Baynes, 28.5
'A withered poplar puts forth flowers.
An older woman takes a husband.
No blame. No praise.'
'A withered poplar that flowers exhausts its energies thereby and only hastens its end. An older woman may marry once more, but no renewal takes place. Everything remains barren. Thus, though all the amenities are observed, the net result is only the anomaly of the situation…'
Yi actually goes to the trouble of specifying, 'No blame, no praise.' The line is like a poem, a mystery removed altogether from human judgement. Wilhelm's take on it is just depressing – it seems he doesn't approve of anomalous situations. (What if the flowers are beautiful? What if the woman is happy?)
Karcher Total I Ching, 17.2
'Following. Tied to the Small Son,
Letting go the Experienced Husbandman.'
'This is a mistake. You have picked the wrong influence to follow. You will end up alone, without anyone to trust. All you can do then is adapt to whatever crosses your path.'
Wow. You could easily miss that the line says nothing about whether this is good or bad. Are there never any benefits to being child-like?
In defence of Karcher and Wilhelm, they are both following the tradition represented by the xiaoxiang, the commentary on the line that's part of the Yijing. It calls 28.5 a 'disgrace' and for 17.2, in Karcher's translation, says, 'This means having nowhere to join helpful companions.' In other words, it's a commentary adding value judgements that weren't in the original – but at least it's an ancient and venerable commentary.
But not all modern commentaries are based on the xiaoxiang. For 9.3,
'A cart losing its wheel spokes.
Husband and wife avert their eyes.'
– another line without good or bad omens – the xiaoxiang only says 'this is a sign they cannot keep their house in order'. So does that always have to mean,
'Things come apart. The spokes are such a small component of the cart, yet when they are lost the whole system collapses. Husband and wife avoid one another's gaze: where you would expect communication and rapport, there is an inner disconnection…'
– ?
(Yes, that one was mine – luckily, I got a chance to edit it for the 2018 edition! Considerably more catastrophic than the original – especially since it turns out that sometimes, avoiding direct contact is the best way to avoid emotional escalation. I managed to make it sound like an unmitigated disaster…)
And speaking of things that are not the answer…
All the technical extras are not the answer, either
– not the fan yao, not the nuclear hexagram, not the complement or shadow or ideal or paired line or nuclear story or sequence. These are helpful context. Back to guiding the elderly lady:
'Did you see where my bus pass got to?'
'I think after you found your umbrella, you took it out of your purse and put it in your pocket.'
Your answer was not 'umbrella' or 'purse'. Likewise, the fan yao is not Yi's answer.
(It's depressing to see people who can't accept the line they received running through the line pathway to find something easier. 'In the field, no game' (32.4) means exactly what it says: what you're hunting for isn't here. It doesn't mean, 'The king makes offerings on Mount Qi. Good fortune, no mistake.' (46.4).)
Readings take time
Sometimes you will 'get it' at once. Often, you won't. This does not mean it didn't work; it means you need to spend time with the reading, sleep on it, let dreams and synchronicities contribute to your understanding, and let understanding evolve. It will. This is how it works.
(I think I was helped a lot by coming to this from the study of literature. I was never going to understand Eluard or Rilke at first glance, so I wasn't too shocked when I needed some time for readings, too.)
Child-like questions plus imagination unlock the meaning
…and some background knowledge helps, too. But without the willingness to ask simple, silly little questions about the images, you can't get started at all. 'Why would an older woman want to marry?' 'What's the difference between a small child and an experienced husbandman?' 'What happens to a cart when it loses its wheel spokes?' 'What's a cart?'
Trust the oracle
Yes, it works. Yes, it has given you an answer you can use; no, you do not need to second-guess your first response. (Part of trusting the oracle is trusting yourself to respond.) You just need attention, patience and a lively curiosity.