Hexagram 4 has an exceptionally clear, direct Oracle:
'Not knowing, creating success.
I do not seek the young ignoramus, the young ignoramus seeks me.
The first consultation speaks clearly.
The second and third pollute the waters,
Polluted, and hence not speaking.
Constancy bears fruit.'
It's often the one that gives people their first sense that Yi has a voice of its own and is talking to them, personally. And it's a coherent message: the ignoramus is seeking answers, but asking again and again won't help.
At least, it's coherent unless you read, for instance, Rutt's translation:
'Offering.
"We do not seek the dodder, the dodder seeks us."
When the first divination is auspicious,
repeated divinations are confusing, and are not auspicious.
Favourable augury.'
The same in Kunst's thesis, and in Part II of Minford's lovely book. As Minford explains (with a nice, long quotation), this idea is drawn from a 1933 essay by Arthur Waley. Legge said that tangmeng was 'dodder' (the name of the hexagram is meng); the Han dynasty dictionary/ glossary/ encyclopaedia Erya says that meng is equivalent to 'dodder'. Waley was quite sure that 'we do not seek the dodder, the dodder seeks us' is a spell to ward off harm when you damage the plant.
This all seems pretty unnecessary: the text makes perfect sense as a whole with 'ignoramus', whereas plants aren't known for consulting the oracle themselves. It's not like other re-readings – for instance, 'piglet' for 'retreat' in Hexagram 33.6 gives you 'fat piglet' instead of 'fat – er, wait, I mean "enriched" – retreat'. (I'm still sticking with 'retreat' as making more sense overall, but I can see the point of the piglet, as it were.) Geoffrey Redmond sees no need for dodder; nor does Harmen. Nor do I, really… and yet…
First, what actually is dodder, and what might it have meant to people?
It's a wholly parasitic plant: as soon as it germinates, the seedling senses the nearest green plant and grows towards it. (If it doesn't reach a suitable host plant within a few days, it will die.) It twines around the host plant and sinks rootlets into its stem.
Its own root now dies off, and it grows no leaves of its own – most species of dodder actually produce no chlorophyll – but grows fast, spreading from one host plant to the next. Soon, it forms a tangled mass of fine, twisting stems that covers the host plants. It flowers and sets seed. The seeds aren't wind-borne, but carried between plants by animals and humans. (Modern farmers are warned of the dangers of carrying dodder seed between fields on their tools and boots.)
Waley observes that parasitic, rootless plants (epiphytes) are regarded as sacred in other cultures – the obvious example is mistletoe. "The epiphyte, then, which has no roots of its own, is mysteriously nurtured by Heaven, and is therefore in touch with the secrets of Heaven. Hence its importance in rites of Divination." Redmond points to a lack of evidence that dodder had such significance in China – but it is uncanny, the plant without roots that seems to appear from nowhere.
Dodder is highly regarded in Chinese medicine as a treatment for osteoporosis, liver and kidney complaints, and as an aphrodisiac. Perhaps that's why it's the first plant the speaker/singer of Ode 48 plans to gather as he thinks of a willing girl:
'I am going to gather the dodder
In the village of Mei.
Of whom do I think?
Of the lovely Meng Jiang.
She was to wait for me at Sang-Zhong,
But she went all the way to Shang-gong
And came with me to the banks of the Qi.'
Dodder is also a serious threat to farmers. It will spread diseases between plants, sap their strength and greatly reduce crop yields. However, from what I've been able to discover, it mostly thrives on leguminous plants, and isn't a serious problem on grains. The soya crop was under threat, but not the millet.
Here's how it looks: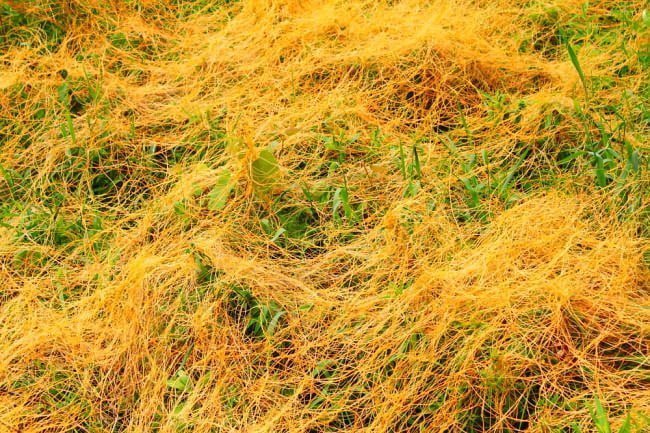 (Richard Sears also says that the original meaning of 'meng' was a kind of plant; the character consists of 'cover' with an animal beneath it, and the plant radical. A 'covering plant'.)
Let's try a thought experiment, and try to substitute 'dodder' for 'ignoramus' in the line texts, translate the rest accordingly, and see if they hold together.
Line 1:
'Sending out the ignoramus,
Fruitful to make use of punishing people,
To make use of loosening fetters and manacles.
Going on in that way is shameful.'
Now… the verb here is fa and means literally an arrow fired from the bow, and more generally 'send out, distribute, expand'. Waley suggested that this referred to pulling the dodder free from its host plant. Perhaps it does. However, spreading, distributing, developing, expanding, arrow-from-a-bow – that sounds more like action of the rapidly-growing plant to me. So let's try,
'Spreading dodder
Fruitful to make use of convicts,
To make use of loosening fetters and manacles.
Going on in that way is shameful.'
Maybe we need the convicts' labour to clear the spreading dodder, and must loosen their shackles enough that they can work. Or maybe the epiphyte is an image for the convicts: each has flourished by parasitising others, but now we can put them to use, and not allow their spread to continue.
Line 2:
'Bagging dodder, good fortune.
Receiving a wife, good fortune.
The son governs the home.'
Bagged dodder is valuable medicine – not least as an aphrodisiac.
Line 3:
'Don't take this woman.
She sees a man of bronze,
And there is no self.
No direction bears fruit.'
There is no meng in this line. Waley suggested this could refer to the bronze colour of the plant and its lack of leaves or roots; I'm not convinced.
Might we see a parasitic tendency in the woman, though?
Line 4:
'Confining dodder.
Shame.'
The first word here is the name of Hexagram 47 – oppressed, confined, with the character that shows a plant hemmed in by walls. This looks to me like the dodder in full growth, choking and smothering its host plant. You should have tackled it while it was young.
This even fits in with the line pathway, which travels through 64.4 and 63.3 – the lines about the recurrent problem of invasions from Demon Country. Any gardener who ever tried to eradicate bindweed (a relative of dodder) will see the connection.
Line 5:
'Young dodder.
Good fortune.'
Here's the same 'young dodder' or indeed 'young ignoramus' as in the Oracle text. At line 5 it joins with 59, Dispersing, as the energy of the host plant is 'dispersed' into the dodder. (The medicinal qualities of dodder also vary depending on its host plant.)
Line 6:
'Beating the dodder.
Fruitless to act like an outlaw,
Fruitful to resist outlaws.'
Waley saw in this line a parallel to the correct way of gathering mistletoe: it must be knocked down from its host tree, not cut with a knife. The problem with that is that outside the tropics, dodder doesn't grow on trees like mistletoe, but entwined and rooted into soft plants. I don't see how you could possibly dislodge it by beating – I imagine you'd just mash up the host plant and dodder together. It's worth noting that 'outlaws' are also those who beat with sticks, etymologically speaking.
If the dodder is growing on your soya plants, then to beat it would certainly be counterproductive. Actually… this reminds me of many experiences of the line describing how people make enemies of themselves and 'beat themselves up'.
~~~
So… some ridiculous stretching, some ideas that seem as though they might be usable. What to make of this?
I think it comes out rather like Hexagram 33's piglet. 33, in readings, means 'Retreat', not 'Piglet' – it has to, to make any sense. That, incidentally, was just as true in 1,000BC as it is now: an oracle that gave readings like…
'What should we do about the invading foreigners?'
'Pig!'
'How about marrying into that clan?'
'Pig!'
…might not have become so popular…
However, when we remember the fleeing piglet who doesn't want to be eaten, this colours our sense of what it means to Retreat. Likewise, Hexagram 4 in readings means 'Ignorance' not 'Dodder', but thinking of the dodder can still colour our sense of what it means to be ignorant: without roots of our own, parasitic, perhaps destructively so – but also growing, potent and maybe magical.