What are we Waiting for?
Wilhelm says Hexagram 5 is about waiting for it to rain. SJ Marshall says it meant waiting for rain to stop. So too does Stephen Field: the hexagram name means 'to stop for the rain', but originally would probably have had the 'water' radical added and meant simply 'drenched'.
In my book, I apparently decided discretion was the better part of valour, and wrote about 'a farmer waiting for the weather to change'!
Here's how to Wait:
Here are some ancient forms of the character 需 xu, Waiting, from a lovely Chinese etymology site. This is the character as it was engraved into bronze vessels, at around the same time as the Yi was first written down:
The first shows a human figure in the rain. I think, from his long, flowing sleeves, that he is probably dancing. But what's happening in the other two pictures?
Wu Shamans in ancient China performed sacrificial rain dance ceremonies in times of drought. Wu anciently served as intermediaries with nature spirits believed to control rainfall and flooding.[6] "Shamans had to carry out an exhausting dance within a ring of fire until, sweating profusely, the falling drops of perspiration produced the desired rain."[7]

Wikipedia
(Wilhelm was right all along. Let's all take a moment to be deeply unsurprised.)
What does this mean for interpretation?
Waiting is active
Firstly, it confirms something we already knew, just from reading the Oracle –
'Waiting, with truth and confidence.
Shining out, creating success: constancy brings good fortune.
Fruitful to cross the great river.'
– namely that Waiting is not a passive, inert activity. Have truth and confidence (the most vital component of any offering or ritual); shine out; dare to cross rivers, taking risks to move towards what you need.
This is important, because our modern associations with 'waiting' are quite different: 'this is beyond your control, so all you can do is be patient and have faith.' The dancing shaman, pouring with sweat, is not just being patient.
Waiting and shining out
The Yijing is poetry, and as in any poem, every word is pregnant with meaning.
Take the first words of the Oracle:
'Waiting, with truth and confidence.
Shining out, creating success…'
The standard divinatory formula found in other hexagrams is 'from the source, creating success', 元亨 yuan heng. Hexagram 5, uniquely, replaces that with 'shining out, creating success', 光亨 guang heng. (Heng means 'success' and also, originally, a successful offering, one made and accepted.) Scholars have suggested that this exception in Hexagram 5 must be a scribal error.
Here is the character guang as it would have been written when the Yi was first recorded: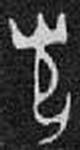 This is a human figure with fire above. It 'rhymes' with the name of the hexagram, when it shows a person under the rain. It's joined with heng to show that this is the offering given and received that engenders creative flow.
There may be other hints of that dancing shaman in the text, too. Waiting begins at the 'outskirts' in line 1, almost certainly the outskirts altar, the place where you make offerings to nature spirits and for the fields. Here it's good to use 'perseverance' – as in the name of Hexagram 32 – which Waley thought meant a simple ritual to fix the omen of good fortune by drawing circles around it. (More from LiSe.)
Waiting isn't just rain-dancing
It's important not to take the etymology too literally, though. 'Waiting' isn't simply synonymous with 'dancing in a ring of fire'.
The other lines make this clear, I think. Line 5, for instance:
'Waiting with food and drink.
Constancy, good fortune.'
Dancing in a ring of fire with food and drink? Unlikely. No… 'waiting' is more general and more universal; the shaman is still dancing, but in the distance.
Sympathetic magic
Waiting isn't passive, but I don't believe it's about making an exceptional effort. The dance isn't about exertion, but sympathetic magic. You make your body rain – 'with truth and confidence', making it true in your self first – and you receive rain. A gift from your body calls a gift from the spirits: it's reciprocal.
And this, I think, does make sense with the remaining moving lines. Your experience will correspond with where you wait.
'Waiting on the sands,
There are small words.
In the end, good fortune.'

5, line 2
Wait on the sands, shifting underfoot, and there are small words. (Also, the character for 'sand' is composed of 'small' and 'water': this could even be a desert. Small water matches small words. Hard to believe it could rain, when there's so little water?)
'Waiting in the bog
Invites the arrival of robbers.'

5, line 4
Wait in the mud, in the bog… well, I remember once, at five or six years old, having to make my way out of a field in my stocking feet because the mud had claimed my boots and I couldn't pull them free. Wait in the sticky mud, and invite the sticky-fingered.
'Waiting in blood.
Come out of the pit.'

5, line 4
Where you wait corresponds with your experience. Yi doesn't need to spell this one out.
'Waiting with food and drink.
Constancy, good fortune.'

5, line 5
Wait amidst plenty, using up your reserves, like a naturally lucky person who has nothing to worry about – and it will be so.
And then there's the final line:
'Entering into the pit.
There are uninvited guests,
Three people come.
Honour them: in the end, good fortune.'

5, line 6
Line 6 isn't about Waiting any more; instead, it's about what comes to you uninvited – what you didn't dance for.
5.6 changes to 9; the fan yao, 9.6, says the rain has come, and now is no time for further effort. Scott Davis suggests 'three people' in 5.6 refers to the Sequence of Hexagrams:
'Rain-making rituals of Hexagram #5 are connected to "dense clouds but no rain" and "rain and rest," arriving after an interval of three hexagrams (like three unexpected guests), thus in Hexagram #9.'

Scott Davis, The Classic of Changes in Cultural Context
So line 6, the one line that doesn't mention waiting, is the one where this is beyond your control, so all you can do is be patient (and respectful) and have faith…