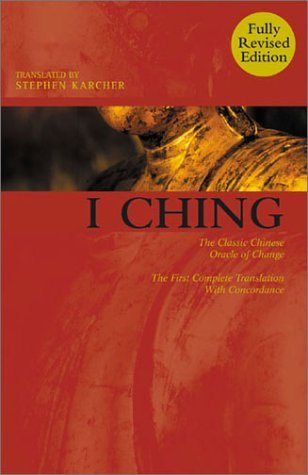 Note:
This is a 'fully revised edition' of the I Ching with concordance by Stephen Karcher and Rudolf Ritsema, the Eranos edition, commonly and affectionately known as 'R&K'. I owe a huge amount to that book: its uniquely liberating approach really launched my own relationship with the I Ching. Certainly without it I'd never have started Clarity.
The original Ritsema-Karcher gave rise to two offshoots: this book of Karcher's, and a revision by Ritsema working with Sabbadini. The core of these two books is the same; you don't need to buy both.
The revised version keeps the great strengths of the original. First and most important, its character-by-character translation, with every word glossed for all its associations and native imagery. This lets you discover symbolic themes running through your answer – with a traditional translation, you'd never have known they were there.
Then there is the concordance. Every character is always translated with the same word – and you can turn to the back of the book and find a list of all the places where a given character occurs. Then open an ordinary translation, and find all the different ways in which this word is translated!
This was my favourite translation for years. But if you prefer to begin with something a little more comprehensible, you could still use this as a wonderful reference book. Open it and find out which words in your translation are really in the I Ching, and which are part of the translator's understanding. Discover which characters are repeated in your answer, but translated differently in your traditional version. Immerse yourself in the underlying web of images and grasp the meaning of your reading for yourself.
This book also has an excellent in-depth introduction, written both to be intelligible to beginners, and to open new possibilities for the more experienced user. Yin and yang, key words from the I Ching, trigrams and the Five Elements (or 'Five Transformative Moments'), how to consult with coins, yarrow or sixteen tokens – it's all there. There are also five intriguing example readings.
The original version had its problems. Basically, it was so free and open as to be very hard to understand. In the revised edition, this problem is largely overcome. In the first place, the text has been edited to be that bit more intelligible. Secondly, there is now clear, succinct commentary on the hexagrams and lines. This builds on the commentaries in Karcher's supremely useful How to Use the I Ching (republished as I Ching Plain and Simple) – though if you want his interpretations in depth, you'd be better off with Total I Ching.
This I Ching is still about as far from an 'instant answers', 'fortune cookie' style translation as you can get: it opens the way for you to create your own understanding. But it is now a lot more user-friendly in giving you a place to start. The revised edition is a wonderful I Ching for anyone who would like to get closer to the oracle than ordinary translations allow – experienced user or courageous beginner.
I like
the 'one word per character' principle of translation, bringing you much closer to the voice of the oracle itself
the concordance, that lets you locate and compare all the occurrences of each character through the book
I wish
maybe for a bit more acknowledgement of the Chinese syntax (there is some, and it does shape the meaning…)
this were still in print (though you should be able to get a copy fairly easily)
Recommended for
Anyone who wants to get closer to the oracle and develop their intuitive response to it.