for fresh insight into your reading
This is a very simple service: 30 minutes' I-Ching-related chat, by phone or Skype.
You could use this to…
get help with a knotty decision
get some quick insights you can use from a reading you've found baffling
find a new way to see a difficult situation
talk things through and find your question
Our chat could be a starting point for your own deeper exploration, or it could provide just the spark of insight you need to make use of a quick reading.
How it works
I'm currently available for I Ching chats on Tuesdays, Thursdays and Saturdays.
1. Book your slot
Pick a time on my calendar and book your call. (This step comes first, so you don't pay until you know there's a suitable time available for you.)
2. Send payment
After you've booked, you'll see a link on the confirmation page to return to the payment form: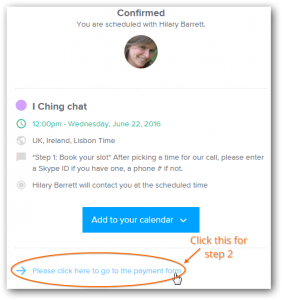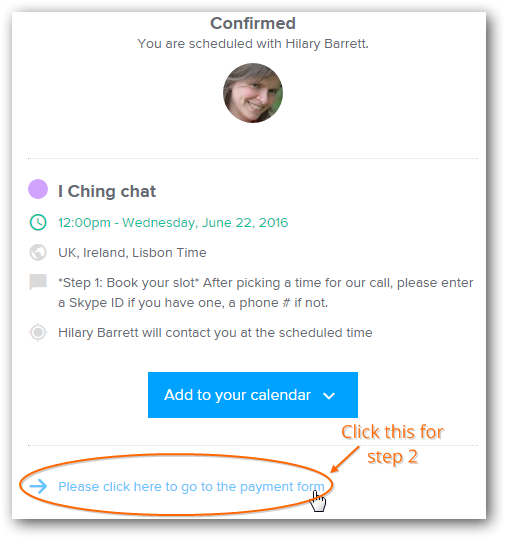 From there you can pay securely with credit card or Paypal, and then…
3. Set a topic for our talk
… on the 'thanks' page after payment, you'll find a form to send me the details of what you'd like to discuss so I can prepare. (For instance: the question you asked, the reading you received, any background I need to understand.)
Then we have our call at the time you chose, and I'll email you a recording afterwards.
Is this right for you?
An I Ching chat will suit you if you'd like some help with a reading you've cast. You absolutely don't need to be some kind of expert, but it's best if you're not completely new to the oracle, because 30 minutes wouldn't be long enough to give you the background you need.
Less is more
Naturally there are limits to what we can cover in the time available! This isn't a comprehensive interpretation (I like to allow a month for one of those), and I find it's better not to bite off more than we can chew: thirty minutes dedicated to getting a handle on one reading is going to be much more helpful to you than a 30 minute gallop through several readings. I won't make up 'rules' for our call topic – that would be daft – but I do recommend you keep it manageable.
If you're a Change Circle member –
– don't forget I Ching chats are already included in your membership. (If you're not a member, you're welcome to join - you'll be able to access the members-only booking page immediately.)
Price, and a very simple guarantee
An I Ching Chat session costs £30 (about $40 or €35).
If at any time after our call you're not happy with it, please contact me for a full refund of your payment. I give this slightly unusual guarantee because I think this is an unusual kind of purchase, one that needs a foundation of mutual trust.
Book an I Ching Chat