Following up on
another thread
, the opportunity arose to talk about a tool that I use that helps me get a more structured view of the Yijing readings.
This "cycle tool" tries to answer a problem that we all have and want to solve in our relationship with the Yijing.
Having a vision of the readings more independent, in what is possible, from the ego is a learning path that everyone goes through over time.It is a very personal process and most of the times very subjective, as it could not be otherwise since we are dealing with the Yijing and all its enigmatic message... and moreover, in its original version, written in ancient Chinese.
In order to minimize the interference of the ego and to seek a basic structure independent of this subjectivity in the Yi readings, I will show how this tool uses the pattern of the hexagram to create a cycle, a "basic block" where the four types of lines ( ----- ; -- --; --o-- ; --x-- ) of the hexagram have a well defined position and meaning within this cycle with the help of Boolean algebra and its
XOR and XNOR functions
. (better known in the study of yijing as
patterns of change
or change operators through Stephen Karcher)
First I will write about the deduction of the basic elements of this cycle with help of Boolean algebra.Then the steps of building the cycle and finally practical examples in its use.
In the images I leave you can see the deduction of the elements using simultaneously a more intuitive example of a man moving his forearm and making the analogy to the practical example 63.1.2>48.
Notice that it is important to go into detail when doing the calculations.
Later on we will have a simple and visual quick way, using only the main hexagram, to get all the information out.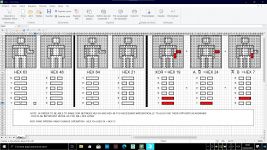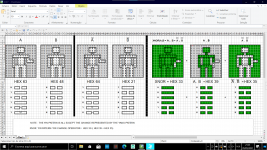 The calculations use the formulas XOR and XNOR and the corresponding multiplications between 0 and 1...
what you see are effective calculations and not to be confused with logical values 0 and 1.
So, we have from the calculations 10 hexagrams that will be included in the construction of this tool:
- main hexagram= hex63
- derived hexagram= hex48
- main opposite hexagram= hex64
- Opposite derived hexagram= hex21
- XOR=yang pattern= lines that change= hex19=(hex24 + hex7)
- XNOR=yin pattern=lines that do not change= hex33=(hex39 + hex35)
- hexagram corresponding to the lines --o--= hex24
- hexagram corresponding to the lines --x--= hex7
- hexagram corresponding to the lines -----= hex39
- hexagram corresponding to the lines -- --= hex35
That's it for now, in the following topic I will talk about the steps for the construction of the cycle and all its surroundings.
Hexagram as a Cycle(2)
breakmov
Last edited: