continuing from topic
Hexagram as a Cycle(1)
So, we have from the calculations 10 hexagrams that will be included in the construction of this tool:

- main hexagram= hex63
- derived hexagram= hex48
- main opposite hexagram= hex64
- Opposite derived hexagram= hex21
- XOR=yang pattern= lines that change= hex19=(hex24 + hex7)
- XNOR=yin pattern=lines that do not change= hex33=(hex39 + hex35)
- hexagram corresponding to the lines --o--= hex24
- hexagram corresponding to the lines --x--= hex7
- hexagram corresponding to the lines -----= hex39
- hexagram corresponding to the lines -- --= hex35
This tool has everything to do with the mathematical relationship XOR and XNOR expressed in the yin/yang pattern of change but also, especially in its use, with a correlated thinking posture, so the fact that there is a number of ten hexagrams immediately brings me back to the special meaning attributed to this number in antiquity, such as
Pythagoras' tetractys
, the
10-day week
in ancient China or its
10 celestial stems
still used today, for example in
wuxing
.

The Steps in the construction of the tool:
The first link between the number 10 and something ancient, and basic in its simplicity, is connected to the simplest figure to represent a three-dimensional volume, the
Tetrahedron
, used for example in 2600 BC in ancient Sumeria,today Iraq, through the
Royal game of Ur
or much later spoken of in the
philosophy of Plato
.
The interesting property of the
Tetrahedron is connected to the number 10 by its 4 vertices and 6 edges
.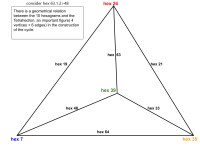 Further research led to the
association of the Tetrahedron with its 4-dimensional
version,
the pentatope
... the step to associate it with the cycle of the 4 seasons was inevitable.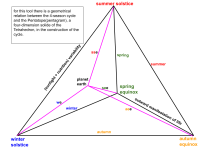 As you can see in the image,
the planet earth
is the basic, primordial factor, that
unites everything else and allows its manifestation
.
At any given moment on planet earth there are the four seasons occurring simultaneously, between the north and south pole. On a daily level, too, the planet is globally and dynamically with parts in a state of day, night, with dawn, with sun at maximum peak e.t.c...
it is a globally continuous successive state where all possible states are present at any given moment.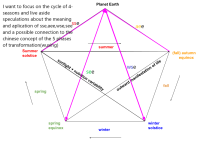 Passing now this concept for application using the hexagrams deduced with the help of Boolean algebra.
As you can see, there is a
n association between the four possible types of lines in a hexagram with the correlated position of the solstices and equinoxes
... these are
key points of change within the cycl
e and are also links between two consecutive seasons.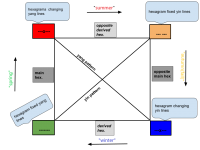 here is a small example, just to give you an idea, how the cycle would be arranged
As you can see
it is very easy to associate directly, visually and without calculation, any reading
(in this example 63.1.2>48) to the appropriate place in the cycle.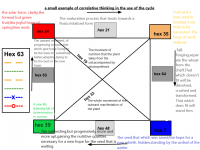 The existing hexagram relations through this tool: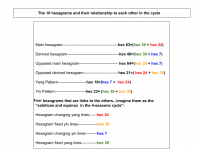 That all for now,
In the next topic, I will talk about the correlated thinking of the various steps of the cycle and its importance. I will leave practical examples.
breakmov