Back in 2017, I taught a new class on reading for others. If you're fascinated by the Yijing – and you can see when your friends, family or clients could benefit from its help – and you want to be able to share that with them – then this is for you. The next 'Reading for Others' class will start in November 2020, and you can register here to stay informed about dates and details.
About the class
What we'll cover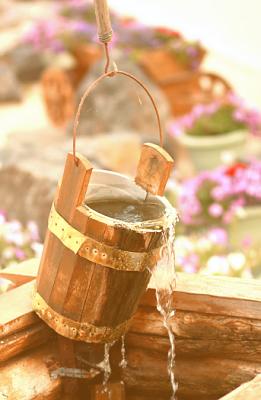 Just as the Foundations Course covers the fundamentals for confident interpretation, this one will equip you with all you need to interpret readings for other people. When someone is lost, or stuck, or turning in circles round a difficult decision, you'll be able to help with a reading.
You already know how Yi helps – the experience of recognition, insight and deep connection that comes in conversation with the Oracle. The Reading For Others class is about making that experience possible for other people.
Think of it as inviting thirsty people to the Yijing-Well and making sure their thirst is quenched.
The Class materials are in three parts:
The Well Rope: interpretation skills to draw out the answer present in a reading
The Bucket: communication skills to make the reading accessible
A Well-Keeper's Manual: developing your resourcefulness as a reader
The Well Rope: interpretation for others
With your own readings, you know ways to reach their essence – or to allow it to come to you. But how can you understand and recognise someone else's answer as Yi is speaking to them? And more importantly, how can you bring that experience of recognition within their reach, even if they're completely new to the oracle? How can you support someone else's relationship with Yi?
The 'Well Rope' part of the class covers:
listening to the querent and helping them find their real question

developing your own ground rules about questions
when – and how – you might encourage someone to rephrase their question
inspiring questions (for coaching or spiritual work)

grasping and communicating the outline of a reading

understanding the primary/relating hexagram framework as an answer to someone else's question
communicating reading structure to a querent who's new to Yi
conveying an 'essence' of a hexagram through distinctions and stories
working with an unchanging reading

Helping a querent navigate changing lines

'contradictory' lines
multiple moving lines (even when you don't have long for the reading)
The Bucket: communicating the reading
It's not enough only to 'draw' the reading for your querent; you need to give it to them, as something they can own, take with them and use in practice.
Choosing the best modality for you to deliver the reading

pros and cons of written readings vs live conversation
designing your own ideal reading 'recipe' to fit your own gifts

How much technical Yijing stuff to include?

communicating moving lines without technical overwhelm
using interpretive tools without 'showing your workings'

Giving (really giving) people images to think in

suggested steps for sharing an image so the querent experiences their own moment of recognition

What if the querent rejects the answer – then how can you give it to them?
Summarising a reading and making it 'portable'
When, how and why you would follow up after the reading
The Well-Keeper's Manual: developing your resourcefulness as a reader
Understanding who you are as a diviner and what you give to others. How to keep on becoming a better reader – and how to stay whole and more or less sane in the process.
Developing your understanding of your own unique gifts and challenges as a diviner

(With suggested questions for Yi – and of course I'm available to discuss the answers)

What to do when you're stuck with interpretation

what I turn to first
using interpretive tools to answer specific questions about a reading
additional, clarifying readings: what you might ask, and when, and what to share

Developing your own resources as a reader

how to use your own journal (and how not to use it)
building up a library of examples, parables, quotations…
ongoing learning, recommended resources

Ground rules and confidence with querents

When and how you might get Yi's help with the relationship
When would you decline to read?
Maintaining your own emotional resilience and avoiding burnout
The limits of a diviner's responsibility
Where, when and how
Class dates and timing
The Class will start in November 2020 and continue through January (with a break for the holidays, of course). Exact dates to be confirmed!
How it works
The class will be a small group of no more than 12 people. There will be…
course materials to download and keep
a private forum for class students only (to get questions answered, discuss topics in depth with other students, share and collect resources, practise readings and run shared 'reading experiments')
working with a partner to practice mini-interpretations to integrate each new idea and tool, and eventually full readings
weekly online meetings for the group – for Q&A, integration and yet more live reading practice.
(As you can maybe tell, I believe that this is best learned through practice! This Class can provide a safe space to give readings and get in-depth feedback.)
This class will be held under the Change Circle 'roof', because Change Circle's resources – from WikiWing to Reading Circle to the Foundations Course to I Ching chats – can all be a huge help in reading for others. This means that if you're already a Change Circle member you get a nice, fat discount; if you're not, you'll have access to Change Circle for the duration of the class.