Joined

Apr 8, 1970
Messages

17,060
Reaction score

2,323
An interruption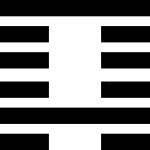 (This post's one of a series about the hidden gems of the Yijing. They may quite often describe things I've mentioned before, but I think they bear repeating.
The idea is to point to especially lovely or ingenious or playful ways that the Yi creates meaning and speaks to us – ways that we can easily miss, unless we look. With these posts, I hope to encourage curiosity about what else we might be missing.)
The oracle of Hexagram 4 reads,
'Not knowing, creating success.
I do not seek the young ignoramus, the young ignoramus seeks me.
The first consultation speaks clearly.
The second and third pollute the waters,
Polluted, and hence not speaking.
Constancy bears fruit.'
And we tend to take a lot of notice of the part about the speaker not seeking the young ignoramus, especially since it usually feels like we're being put very firmly in our place.
But this is about the rest of the oracle – actually just three words,
heng li zhen
, translated above as 'creating success – bearing fruit – constancy'. These words are part of the mantic formula that opens the whole book,
yuan heng li zhen
: from the source, creating success, constancy bears fruit. Behind those meanings lie older ones: a successful, well-received
offering
, and a fruitful
divination
.
Only a select few hexagrams give all four words, but it's always interesting to see how they vary the formula. Some simply insert the name of the hexagram in place of
yuan
– Hexagram 31, for instance
'Influence, creating success.
Constancy bears fruit.
Taking a woman, good fortune.'
Hexagrams 58 and 62 do the same – and actually,
so does Hexagram 4:
'Not knowing, creating success.
Constancy bears fruit.'
Except that the flow from
heng
to
li zhen
, from the offering to the fruitful divination, gets interrupted by the young ignoramus and her repeat questioning.
In other words, this passage doesn't just
describe
a disruption of the divinatory process through importunate questioning: it
enacts
it.
This kind of thing, using language to enact what it describes, gets modern literary critics very excited. But never mind them. The point is that this interruption to the familiar
yuan heng li zhen
formula (given in its entirety in Hexagrams 1, 2 and 3) makes us
feel
the disruptive effect of constant questioning – and then reassurance that, even when we're young and ignorant, constancy still bears fruit.