Supporter
Clarity Supporter
Joined

Sep 20, 1970
Messages

6,815
Reaction score

577
For all I know this is different for everyone's individual computer, but here's what just worked for me to fix a problem. Pertains at least to the Intel HD Graphics 520 graphics card / GPU on my laptop; can't vouch for anything else.
Problem: installed the Windows 2004 feature update. For some reason, it caused Resonance Journal to change color from blue to a light sandy color. It also changed the color/tint of the whole monitor, but Resonance Journal was the most dramatic.
Solution (very easy):
Find and open the Intel Graphics Command Center app (typing "intel" in the search bar was enough for me to find it; it's also listed under "I" in my Start menu).
Click the "Display" icon in the left-hand sidebar, the one that looks like a monitor.

Click the "Color" tab.
Flip the switch (circled below) from "RGB" to "All Colors" and back to RGB again.
That is all. Colors should hopefully be back to normal. Close the Intel window.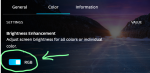 Last edited: